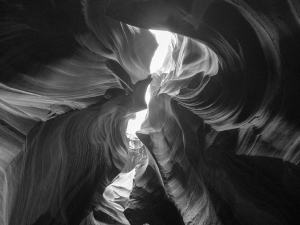 In the summer of 2019, I was taking photographs along the border of Arizona and Utah when I came across a narrow slot canyon. This particular slot canyon was its own sandstone world, where strange forms swirled and billowed and mingled and collided. The sandstone walls around me had been created by the friction of water rushing through these deep narrow slots in the surface of the Earth, making all the surfaces smooth and graceful.
The slot canyon was also an ominous environment. As I hiked the canyon floor, every few yards I would look up and see logs wedged in the wall up to forty feet over my head. But what was so captivating about that hike was the fantastic, surreal forms I encountered. The curving sandstone walls changed under the lighting conditions as the summer sun shifted its position overhead, illuminating some areas and casting others in darkness.
The wave-like patterns I saw in the different layers of sandstone stretching above me were compositionally amazing forms. They drew me in. I mounted my Lumix Panasonic DMC-GX85 mirrorless camera on my tripod and, using my 12-32 mm wide-angle lens, took a series of photos looking up. This happened to be one of the first photos taken. I was particularly fond of the abstract nature of the image and how I was able to capture the sharpness and detail of the striations of sandstone leading up to the almost heavenly bright light shining down into the canyon.