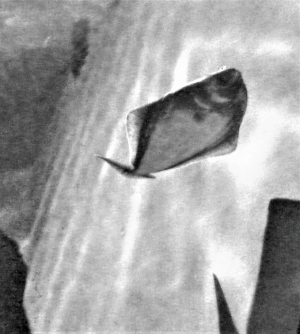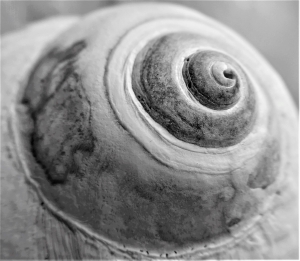 My studies as an amateur naturalist have brought me closer to an important truth in life — the diversity and complexity of interrelated systems. I use photography to record and study wildlife and natural structures. I modify photos just a little in order to emphasize shapes, colors, and designs. In this, my photographic art expresses a purposeful point of view that lets me better understand the world. My abstract imagery is meant to intrigue viewers and encourage them to take a second look, to reassess their expectations about perspective and interpretation.
These photos are generally representational, modified to focus on the animals' geometry. The halibut, so angular yet graceful, seems to drift in space as it crosses reflections and shadows in its tank at the Oregon Coast Aquarium in Newport. The challenge in photographing this halibut lay in negotiating the shifting light and the fish's continuous motion.
The snail shell appears to curl outwards as well as twist inwards, its shape suggesting an eye that provides a "look" at how the shell is formed. Since most of the moon snail shells I find are broken, I was pleased to find a county park in the Olympic Peninsula with a broad, sandy shoreline where moon snails eat, breed, and leave fairly complete shells in the shallows. This picture resulted from my interest in learning macro (closeup) photography. I think these two photos make a nice pairing, with the black-and-white tonality emphasizing symmetry and dynamism.