The day I return from Montana with no responsibilities, doing acid to honky tonk, I come home to bear shit underneath the apple tree, elk near the creek, and a rattlesnake whispering threats at my dog, then me, with her tongue, with her tail I grab my pistol but its home is metal I cannot afford a spark. So I carry a shovel, to skin head from body. But when I come back, she has vanished.
I hear the sky cough, echoing through the canyon, heaving overhead, and the turkeys calling back. I am starving, but I know I have to hook up the trailer in case there is fire tonight. The clunk of the horses guzzling weeds I hope no sand goes down their gullet– collic from the ground.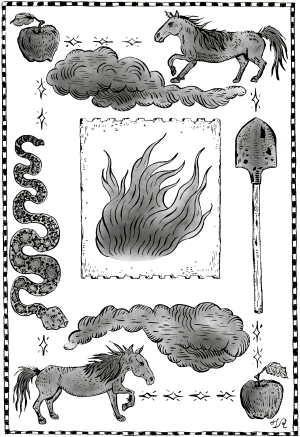 Pray rain comes with this lightning. Thunder erupts like gunfire o'er the sky like the mountain ranges having conversation And I carry my shovel everywhere I go even to bed where I keep my pistol I look into the barrel of the cloud I know holds lightning– please do not take my house tonight, I already lost a rattlesnake today.
I tell myself I will not cross the creek with fear I will bring my shovel with me The apple tree begins to crackle from storm And I try to imagine brawl between bear and elk.
Of course, it rains when the sprinklers are on And I know it's the fawns who have eaten my Columbine.