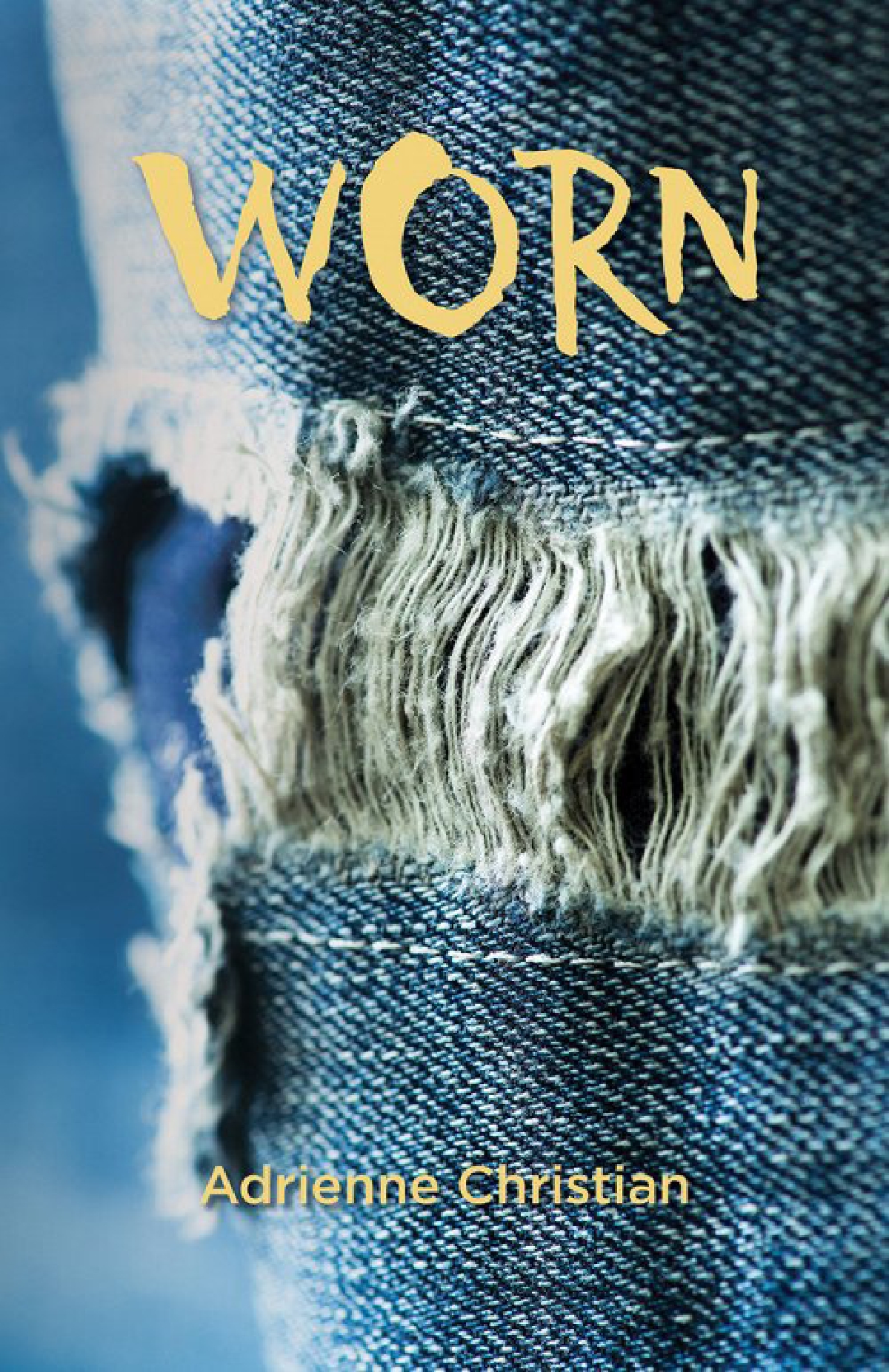 In her third book of poems, WORN, Adrienne Christian opens closets, trunks, drawers and minds, stitching together a narrative made from the costume of living– clothes. And it's not only about the finest attire, but also housecoats, shoes with holes in the bottom, sports jerseys, hospital gowns, and boxer briefs. Occasionally, Christian takes delightful liberty with anatomy as well!
It's brilliant, really, for a poet to recognize how often and how deeply our lives center around clothes. They are our second skins, protective, utilitarian, ceremonious, sexy, expressions of class, culture, and identity. Christian's poems seem to discover that we are made like clothing is made: most of the time imperfect, always with a purpose.
Christian's poems advocate in an exciting way, but also, they soberly reflect. Description of clothes adds interest and detail. Sometimes clothes are a metaphor for things like oppression, expressed through the symbolism of work uniforms for example. This is a poet who knows that sometimes in life we choose what to wear. Other times we wear what we are given.
Not-surprisingly, an eye on clothing and appearance results in the making of some great portrait poems: family members, neighbors, friends, lovers, church ladies, a (great-smelling!) husband. In "The Nike Song Circa '91" Christian's Nike-wearing grade school crush brings a certain nostalgia. But there are a lot of surprises, too — the opportunist uncle selling T-shirts with bad slogans at her stepsister's wedding, the biological father showing up unexpectedly at graduation, the uncle who serves Cheetos on a plate then puts on a porno.
Clothes, as they say, make the man. In "Biological Father at College Graduation, 2001":
Angelo shows up at the 11 am ceremony smelling like a liquor store floor. Wearing a swishy jogging suit from the 90s, a pinky ring and plastic gas station sunglasses. He'd gotten a ticket somehow.

He hadn't been to bed; he'd been to the casino. And to the women's. I knew it. I'd seen it on him many a time. He handed me the ten hundred dollar bills he'd won. I took it and rolled my eyes.
Christian lets us see the absent father through the daughter's eyes. The poem is external, relying on image alone until the very last line, a question about betrayal that is not directed toward the father, but elsewhere. In a total of four brief stanzas, Christian reveals a great deal about the (absent) father-daughter relationship. The narrative is revealing, but open, and such an open awareness speaks to a young woman's strength and empowerment. In fact, strength and empowerment resonates throughout the collection.
In "The Day I Left the Church," an epigraph: "You will be too much for some people. Those are not your people." Here is the permission to practice radical self-love through the adornment and unapologetic presentation of the body. It's clear that the poet has chosen this for herself with no regret. Although feminism and the body-positive movement in the U.S. has inspired women to reject patriarchal ideas of modesty for decades, this kind of empowerment in the poems still feels radically new, and also, very appealing.
Christian writes through and beyond the hesitation many feel when approaching certain subjects. These poems do not back down from unwanted attention and touch. They do not flinch at desperation, addiction, or cruelty. Some poems are political, with no likely resolution in sight. Others are sweet and celebratory. Like a good wardrobe, there's an outfit for every occasion.
---
Adrienne Christian's WORN is available now from Santa Fe Writer's Project.