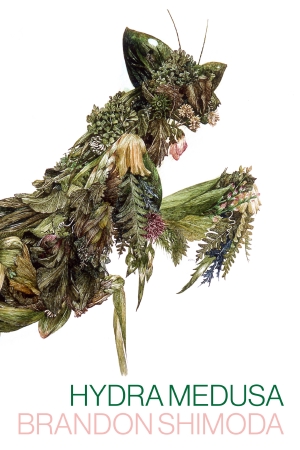 "Dear Brandon Shimoda, I love how you scream through a whisper? Dear Brandon Shimoda, let's whisper into cold night. Let's waver into the fog, into the dark fade." — Jay Ponteri, Someone Told Me
Prescient, entrancing, and fiercely individual, Shimoda's words cut through the hurry of the modern age to focus on the delicate complexity of life on earth. Shimoda does not, however, study life from afar, like a scientist or a philosopher. Instead, he sinks his fingers into its soil and digs deep into the underworld of his dreams to understand it.
"I trust my dreams," Shimoda wrote in his latest book of poems and essays, Hydra Medusa (Nightboat Books, 2023). "I trust them especially when I do not trust myself to responsibly process what is happening outside of them."
A continuation of his book The Desert (The Song Cave, 2018), Hydra Medusa examines the fragile in-between moments of Shimoda's life from 2017 and 2020. In the midst of working five jobs and raising a child, Shimoda snuck these poems on paper during bus commutes, right before bed, and just after sunrise. And, just like the mesmerizing microorganism after which the collection is named, one which does not appear to die of old age—or age at all—each poem seems to suspend time, making room for the momentary and the eternal to exist on the page together.
The beginning of the book reads like a dream journal, with each stanza repeating the words "I had a dream last night." Poetically, each stanza of the last chapter of the book repeats those same words. In many ways, Shimoda's dreams are a portal into the future, a state of mind that allows him ultimate freedom to imagine where our world is headed.
"I had a dream last night that my teacher was sitting on the roof of an old building," he wrote in his first chapter, "I closed my eyes and said: Someday the earth will become the moon—beaten, abused—extinguished—and yet indispensably radiant to some other life."
As seemingly lucid experiences, however, Shimoda's dreams are also a doorway to his past, one that allows him to move carefully through his life, returning to ideas and characters and moments, again and again, peeling back new layers each time. As he relishes in the past, Shimoda's dreamworld sparkles with insight and hope in flashes of nostalgia that skip along the surface of his unconscious. Many of his dreams are also a labyrinth, one that leads him backwards as often as they do forward.
In many ways, this meditative approach to his poetry mirrors that of the late Lebanese-American poet, Etel Adnan, who wrote that "it's good to stay in discontinuity, there / where the birds live."
One image that grounds this tension between continuity and discontinuity resonates through Shimoda's focus on the relationship between flowers and fruit, a thread he weaves throughout his meditations on descendants, ancestors, and ghosts. For Shimoda, flowers begin as placeholders for mourning and grief. In the end, the inevitable death of flowers as necessary for the beginning of the fruit signals the importance of a wider view of both life and death.
In his essay "The Ghosts of Pearl Harbor," for example, Shimoda returns to the final words of a restitution check his grandfather, who immigrated to the United States from Japan in 1919, received from the government following his incarceration during WWII: "the last sentence read: You and your family have our best wishes for the future. The future, fruition, or fruit: The death of the flower."
For Shimoda, life cannot exist without death; but death is not the end of anything at all. Author Jenny Xie realizes the same interconnectedness of antipodes in her poem "Lunar New Year, 1988": "In the alleyway of my childhood home, / you can see I'm covering my ears. / At my back: / the years ahead, strangely lit." Along this vein, Thirii Myo Kyaw Myint, whose recent book Names for Light: A Family History approaches time from a similarly labyrinthine perspective. Her work is haunted by the ghost of a past she cannot remember, such that time bends backwards, in the moments her ghosts arrive in the present.
Every line of Shimoda's poetry, in my mind, represents the fruit of his diligent work unpacking this idea, such that each stanza is a brief flicker of clarity, and every space between words a deep breath intended to make room in time for his readers to savor that clarity. When reading Shimoda, "the kaleidoscope stops spinning; and not only does it stop spinning, it turns inside-out, with every facet of life inflamed, reorganized, and thrown back into the world."
To spend an hour with Brandon Shimoda is to spend an hour learning how to listen to the wind, how to listen close enough to hear the whisper of a ghost passing by. To spend a day with his words is to completely upend the way you move through time. Even, on occasion, to stop it.
---
Hydra Medusa is available from Nightboat Books.