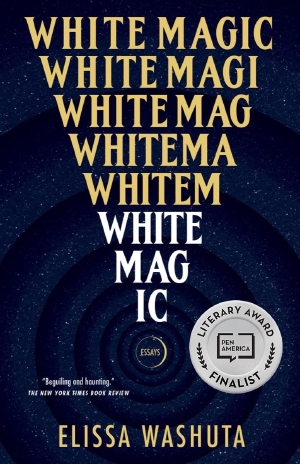 Magic lets Elissa Washuta stay alive. She can't control the world through magic, but witchcraft has helped her survive events that were close to hell. That premise is essential to Washuta's new essay collection, White Magic, which is webbed with astrology and tarot, shot through with spirit encounters and velvety magic acts. In this book, time frays and doubles back, and sometimes you have to spin around and wonder how you've arrived where you are.
Just opening White Magic's starry cover feels like entry into a forbidden or enchanted place. Not a secret garden, but somewhere darker and more stirring. Maybe a magic cave. Washuta writes that as a girl, she went to a tourist cavern "blooming with calcite crystals," where she bought a kit from the gift shop so she could grow her very own cave. One wonders if she hasn't succeeded.
Or maybe, in a different sense, this country has grown one around her. Washuta is a member of the Cowlitz Indian Tribe, with Cascade ancestry. "As a Native woman, I am most endangered when I relax into romantic love under colonial rule," Washuta said in a 2019 talk at Creative Capital. She cites a 2010 survey of Native women in Seattle, which reports "94 percent had been raped or coerced into sex." Of those, 96 percent were violated by non-Native perpetrators. This violence — its legacy and constant threat — is present on every page.
White Magic's nine essays (split into three acts) are fragmented but vast. They cover abuse, survival, sobriety, settler colonialism, romance, ancestry, and—-as Washuta says—-"how [she] became a powerful witch." Washuta folds in far-reaching narratives, such as ghost lore from her boggy childhood home of New Jersey and her favorite Cowlitz story, in which "a girl devours everyone who loves her before turning into a shark." The book has a thick bibliography. It brims with thoughtful research.
But the collection is also built around pop culture artifacts. Mood rings. Grade school paper fortunetellers. The monsters and critters of Pokémon Go. The Last of the Mohicans. Twin Peaks. And, maybe most wonderfully, the computer game Oregon Trail II. It's this blend of registers and media and voices that so entrances.
Take the first essay, "Little Lies." It shifts from a 1990s D.A.R.E. video to the U.S. government's murder of Washuta's great-great-great-grandfather—-the Cascade Chief Tumulth — to alcoholism and recovery, to the dust that wrecked the lungs of her coal miner kin, to Stevie Nicks' astrology chart. The prose is fierce, incisive, and stunning. "I can't picture Tumulth with the executioner's rope around his neck," she writes, "but I can picture those bottles and feel the shudder of astringent-soaked organs on a hot day, no water anywhere, liquor mummifying the corpse even while it jangles its arms. That's just day drinking. Sometimes, when I'm gulping soda water, a date will ask, Do you ever miss it?"
One of the most remarkable essays is "Oregon Trail II for Windows 95/98/ME & Macintosh: Challenge the Unpredictable Frontier." It interweaves the cult-classic computer game with Washuta's own move west to Seattle, near her ancestral homeland, where she lived for ten years. As Washuta — or, well, her 1855 avatar — trudges through the continent's interior, we journey through her own interior, her history with alcohol, her brief relationship with a white man who is shitty but "never abusive," and her fraught sense of Native identity. We ford rivers with her and barter for salt pork. Before hitting the trail, the essay places us in a dry goods store:
"[You] buy 1 ax, 200 pounds of bacon, no brandy, no banjo. You buy 3 — no, make that 5 boxes of bullets, 2 butcher knives…This is the best part of the journey, so much like the late-night WinCo trips you make in your 'real' life outside this window…
Inside the window, you change your mind and buy brandy, because, here, you are a white man. In this place that is both safe and unsafe, you can have all the brandy you want…
You buy 3 gallons of whiskey because, outside the window, you've lost whiskey forever: you just passed the seven-months sober mark. You're a miracle."
The essay is wickedly funny, yet it reveals the violent, colonizer fantasy at the core of the game. Washuta plays the game again and again. She plays it in the dark through Thanksgiving and her 31st birthday. As she plays, she looks for her female ancestors in pixelated places, but never finds them. Toward the essay's end, Washuta writes, "This game was not made for you. Not for the person you want to become, anyway, the descendant of your ancestors. The game was part of the project of whiteness: you were expected to colonize."
Early in the book, Washuta tells us, "I'm saying a man might kill me if I keep choosing wrong." Here are the non-computer-game stakes for Washuta: a man, a white man, may kill her. By "choosing wrong," she refers to finding herself in "time loops, men echoing men." Men have held her at knifepoint, choked her, stalked her, groped her, called her stupid, and raped her "more times than [she] can recall." Tinder men want her to be their Native "fantasy maiden" and ask if she likes their white cocks. The project of whiteness does its work.
But then there's magic, which is how Washuta makes her "prayers material." She casts spells, anoints candles, reads tarot, and asks benevolent spirits to intervene. She chooses witchcraft because other inheritances have been cordoned off or destroyed. She can't "touch a western red cedar on a daily basis," or burn its boughs like her ancestors did. All around her, white Instagram witches burn sage and turn Indigenous traditions into self-help. "New Age eats the ancient, trying to digest old systems," Washuta writes. (And she struggles with this, too, saying, "I just want a version of the occult that isn't built on plunder.") To be clear, White Magic isn't interested in the question, "Is magic real?" It's interested in how power is sourced, divined, or conjured by a woman whom America would like to be powerless.
The mystical converges with love-seeking in the book's final section. In "The Spirit Cabinet," Washuta's personal timelines collapse and meld with Twin Peaks scenes. The essay tracks Washuta's relationship with Carl, a bond so intense she wishes they could be "stitched" together by their rib cages. Washuta believes synchronicity keeps braiding their lives together long after their relationship turns sour. Carl, a curly-haired musician, responds to vulnerable texts with emojis, shows Washuta his scrambled egg tricks just to teach her something, and cheats on women. Washuta is—-well, clearly too good for him. At one hundred pages, the essay is a solid quarter of the collection. Carl overstays his welcome in the book. He also eclipses the more interesting questions that go under-explored. What are the hazards of "trusting the universe," as Washuta hears other witches say? What happens when trusting the divine occludes your own intuition?
In the introduction, Washuta writes, "The truth is, I'm not a witch exactly. I'm a person with prayers, a person who believes in spirits and plays with fire." But later she says without question that she is in fact a "powerful witch." Those contradictions capture the multiplicity of White Magic. Washuta's essays can be like a cave, but also like a magic act, or a video game, or an automaton: something intricate and uncanny. Whatever the essays are, Washuta's phrase repeats like an incantation. It's true: she has become a most powerful witch.
---
White Magic is available from Tin House Books.