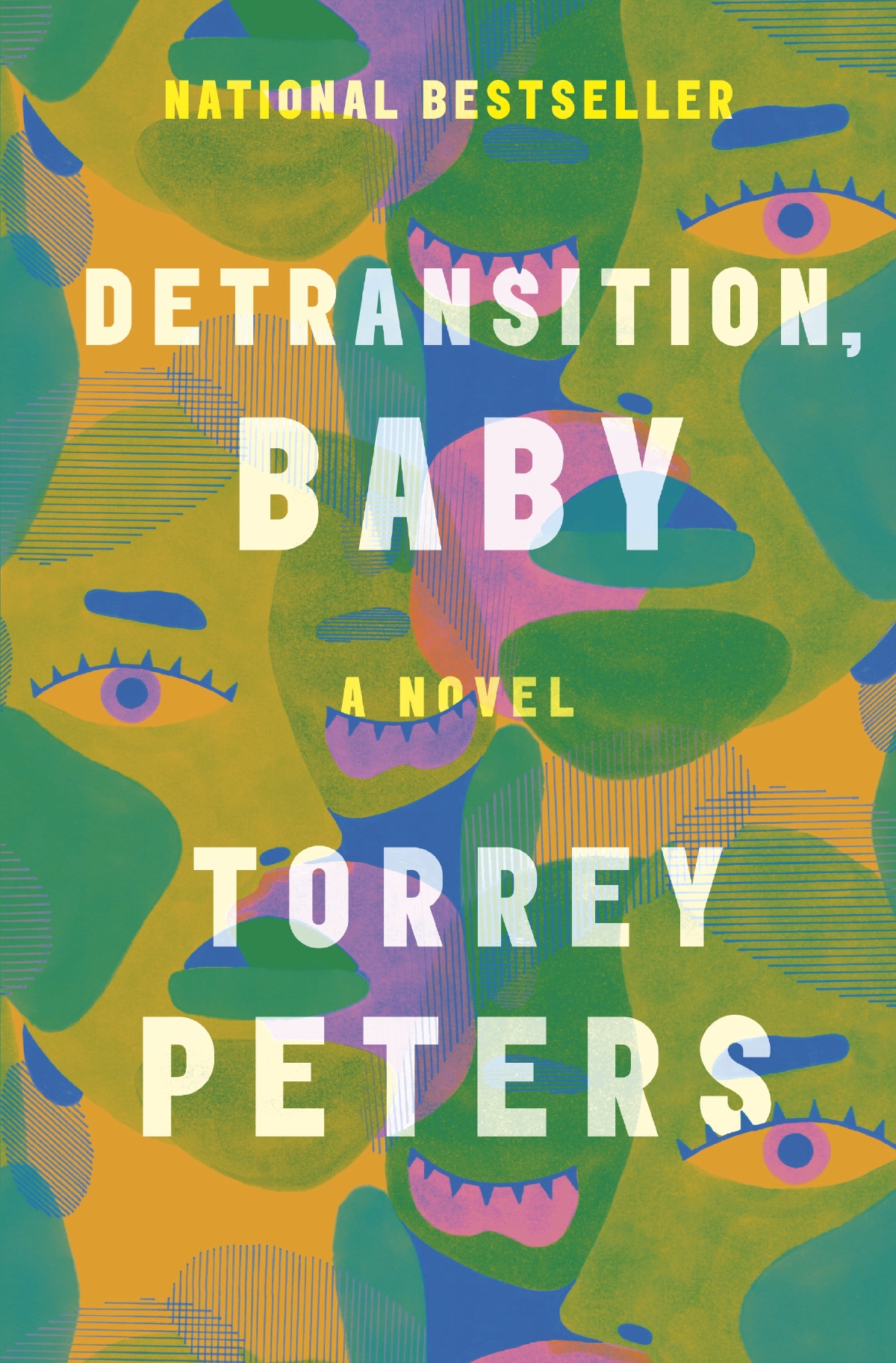 Torrey Peters' Detransition, Baby came out in early 2021 and quickly became one of the buzziest novels of the year. The novel is big-hearted, with as many moments of crisp humor as there are moments of striking tenderness. It's a novel that cares about the cis gaze without catering to it, which may be exactly why the novel transcended from more niche literary categorization into "women's social satire."
The novel follows three main characters: Reese, Ames, and Katrina. The beginning of the novel offers an analysis of the Sex and the City Problem. The phenomenon is defined thusly: as women age, an urgency to give her life meaning emerges as she rapidly loses her youth and beauty. Susceptible to degradation by the aging process, she can luckily solve this problem by adopting the arc of any character on the show. Options include: find a partner (like Charlotte), have a kid (like Miranda), express herself through art (like Carrie), or develop a career (like Samantha). Anyone can take a Sex and the City BuzzFeed quiz to figure out how to assign their life renewed purpose. However, the crux of the novel is when Reese bemoans that the Sex and the City problem "is a problem for all women. But unlike millions of cis women… no generation of trans women had ever solved it."
Each of Detransition, Baby's characters exposes a form of failure in the performance of womanhood. Perhaps in writing this novel, Peters does not set out to solve the Sex and City Problem for trans women, but creates the Detransition, Baby Problem: when a woman begins to notice the myriad ways she falls short of womanhood as dictated by a heteropatriarchal society, meeting these standards grows incrementally more impossible. Rather than save herself or be saved by another, she can accept that she is a failed woman. Detransition, Baby not only teaches women to embrace their failures, but also to assign meaning to them.
If the Detransition, Baby Problem was to become a Buzzfeed quiz, the quiz maker would contend with a delicious storyline: Reese and Ames are former lovers who have not spoken in years. When Ames gets his boss Katrina pregnant, his struggle to accept fatherhood comes to head (given his identity as a closeted trans woman). Katrina's reaction to Ames' identity swings from belligerent shock to hyper-acceptance of queerness in her life through parenting strategy. She decides to keep the baby, and Ames offers to raise the baby with her if she accepts Reese as a third parent in their relationship. Reese's immediate reaction is impervious denial, though eventually she grows to accepts her role.
The Detransition, Baby Buzzfeed quiz would then need to create a set of questions coded to each character. What if, like the novel, it asked if queerness is being gentrified? Katrina, a straight cis woman, is initially horrified to learn that Ames is trans. Katrina's meteoric ambitions tend to hurt others. When Katrina decides to queer her notion of parenthood, it seems at first solely for her career and relationship. As a reader, we question if this sudden embrace of queerness is trustworthy. Yet, Peters points out that Katrina is a failed woman herself, having had a miscarriage and being divorced. She is willing to reinvent herself, again and again, including for this new triad.
Katrina's direct counterpart is Reese, and the line between the women blurs unexpectedly throughout the book. Both women are equally impulsive, equally longing for a child, and equally in love with and disdainful of Ames. However, Reese considers Ames cowardly for detransitioning. She grieves his identity as a trans woman since they both found their womanhood together. Ames is an indelible part of Reese's trans identity, and Reese cannot help but feel betrayed. Not until she reconnects with Ames does she begin to understand that she was never abandoned by him. He admires her for bearing the violence and anxieties of transness that she takes in stride every day.
Ames stands out in this muddle as an arbitrator of the definition of womanhood itself. He detransitioned after a traumatic incident, using his maleness as a defense mechanism. Ames' womanhood illustrates the important difference between "being trans" and "doing trans". As Ames says, by destransitioning he chose not to "do trans" anymore, but he is still a trans woman. Ames uses boundaries to find respite in new versions of himself. He grieves his womanhood as much as he stands with his decision.
To really understand the Detransition, Baby problem, it is important to also understand how all three characters historically relate to each other. Peters proposes that divorced cis women are the ancestors of trans women, illustrated metaphorically by the plight of juvenile elephants whose mothers have been poached. In some parts of the world, gangs of motherless juvenile elephants run amok, wreaking havoc on nearby villages. They have never been taught to countenance pain. Similarly, trans women have had trouble becoming elders to their own community. The knowledge of womanhood and transitioning is cyclically lost as trans women die by homicide and suicide at disproportionate rates. Peters shows through her novel how trans women can embrace divorced cis women as their role models. After all, divorced cis women are also a brand of failed women. These women might have to change their name, change their finances, and reinvent themselves. In the novel, Reese is shocked how much she learns from Katrina when they swap stories about fertility, toxic men, and histrionics.
For the Detransition, Baby Problem to be a complete Buzzfeed quiz, it must assign a character to the test-taker. The formula for the answer is simple: outline the character's failure to womanhood, followed by their contribution to womanhood. Katrina is vilified for her "man-eating" personality, yet she balances this with feminine tenderness. Reese is judged for having no ambition greater than to be a traditionally gorgeous woman. "Call her a fraud, a hypocrite, superficial, but politics and practice parted paths in her own body." Still, she is not afraid to concoct her own definition of success. Ames seems to have abandoned womanhood altogether, yet he provides support to both women with uncommon empathy. Detransition, Baby shows us that no matter whether the reader is a Reese, Katrina, or Ames, they have their place in the history of failed womanhood. Perhaps within lineage, there is resilience.
---
Detransition, Baby is available now from One World.